Demonstration-Tako To Negi No Golden Tamari Ae
Preparation
Boil an octopus for around 45 minuts with hot water.
Step 1
Wash an octopus and a green onion by water.
Step 2
Cut a green onion in pieces about 4cm.
Step 3
Cut the piece in vertical thin.
step 4
Cut octopus in pieces. The size is up to your choice.
Step 5
Soak the pieces of octopus and onion in water for about 10 minutes.
Step 6
Remove water, put these in to a bowl.
Step 7
The photo of Golden Tamari Sauce and Sesami oil that are used in this time.
Step 8
Add sesami oil. (1 tsp)
Step 9
Add Golden Tamari Sauce. (2 tsp)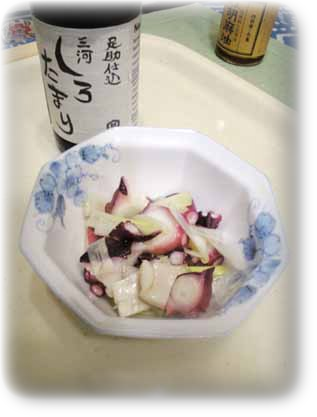 Ready for serving.